Technician Workspace & Parts Management
An organized shop is efficient and profitable
No matter if you are a technician outfitting your work area or an entire dealership putting in new equipment everywhere, we have solutions – high-density parts storage, technician workspace, parts room shelving, and much more.
If you already have your plans, we can make them come to life.  If you need help figuring it out, we do that all the time.  Let us help by sharing our expertise and experience.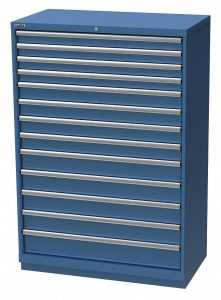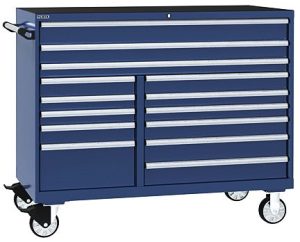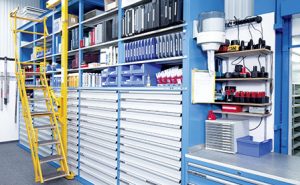 LISTA storage cabinets offer the highest density storage combined with an almost infinite variety of cabinet footprints and drawer heights. We pack our storage cabinets with everything you need to create the most productive work environment, no matter what your industry or application.
LISTA, a brand of Stanley Black & Decker Storage Solutions group, provides high-density storage solutions that help workforces work efficiently and safely. We partner with businesses to design customized storage and workspace systems that maximize productivity while saving space.
Build-a-Bay™ is Made for Service and Parts Departments
By taking the service area to a new level, Build-a-Bay helps grow your business. It increases consumer confidence, builds employee loyalty and organizational pride, and profit. Technicians have been using our products for nearly 100 years. Build-a-Bay has been time tested and is a way of making sure every new customer becomes a repeat customer, and every technician hour worked becomes a return on investment.
Increase Productivity, Customer Satisfaction & ROI
Build-a-Bay™ is a smart investment, and not only for today, which is measured by increased productivity and efficient parts storage.
Training new technicians takes time and costs money, so part of your ROI is measured by technician retention. Having a technician leave after three years for a dollar more is a waste of your valuable resources. With the Build-a-Bay system in place, new technicians can spend their money on the tools that will help them get the job done right, the first time. Build-a-Bay instills the kind of "blown away" pride that makes new technicians feel that their first job just might be their last job.
We partner with many schools and colleges to provide a real work environment to future technicians so they recognize quality. Build-A-Bay in your facility gives you the edge to attract the best talent from the top schools, helping to ensure your future business.
Outfitting your shop with the industry's best displays a clean, organized atmosphere and gives your customers piece of mind knowing that their vehicles will be well taken care of. Build-A-Bay clearly demonstrates the pride you have in your business, while building customer confidence and satisfaction.
Summit Storage Solutions is a leading manufacturer of Vertical Storage Carousels and other fabricated metal storage solutions. Committed to providing quality products and first class customer service, Summit Storage Solutions can provide your company with a storage solution specific to your unique needs.
In the automotive industry, finding and retrieving the right parts or tires efficiently is key for a business' success. Unfortunately, many car dealership parts departments, auto manufacturer warehouses, independent parts warehouses, and similar organizations still rely on inefficient static shelving systems to store their inventories. These storage racks often take up too much floor space and quickly become disorganized, wasting valuable employee time during the finding and picking process.
Vertical storage carousels offer a space and time-saving solution to this storage problem. Because they are custom-made to fit your parts facility or warehouse, our carousels take advantage of more unused airspace than traditional racks or shelving. This allows businesses to fit more parts and tires per square foot of floor space. Furthermore, our vertical storage carousels feature easy-to-use controls with "up" and "down" buttons only – no keypads or computers.
With this method of operation, warehouse employees can quickly access the desired tray or shelf and pick the appropriate parts or tires. By delivering this inventory at the picker's waist level, the carousels also help avoid heavy lifting and straining that can injure employees.
Our tray carousels can accommodate almost any kind of part, whether it's in a tote, bin, box, or bag. We are also experienced manufacturers of vertical storage carousels for tires and custom storage carousels.
Our consulting team can help you design your shop or work from your existing plans.
With so many standard and custom options, we can help you design individual workstations or layout your entire parts room or service center.