Stertil-Koni Partners with Federal Contracts Corp to Fast-track Vehicle Lift Sales to the U.S. Military and other Government Agencies
STEVENSVILLE, MD, March 20, 2023 – Heavy-duty vehicle lift leader Stertil-Koni today announced a dynamic new partnership with Federal Contracts Corp (FCC) — a Certified Service-Disabled Veteran-Owned Small Business with expertise in streamlining the government purchasing process – all designed to further advance the sale of vehicle lifts to the U.S. Military and other U.S. government agencies.
The alliance brings together Stertil-Koni, the recognized leader in heavy duty vehicle lifting systems across North America, with FCC, an established enterprise that is dedicated, in its own words, to "generating quality contracts between manufacturers and federal government agencies, while building lasting and profitable business partnerships."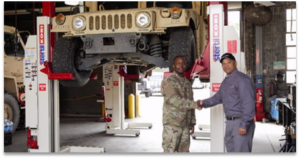 FCC is a GSA and DLA HEPP contract holder and holds multiple BPAs with various agencies.  These contract vehicles provide convenience, efficiency, and reduced costs for federal agencies. Founded in 2003, FCC partners with the best in the construction and heavy equipment industries to meet the ongoing needs of government agencies.
In making today's announcement, Stertil-Koni Vice President of Sales & Marketing, Scott Steinhardt, stated: "FCC's expertise is making heavy equipment procurement simple and easy for the federal government, and we are delighted to join forces with them.  Thanks to this new partnership, Stertil-Koni distributors and U.S. government customers alike will benefit from FCC's efficient, streamlined, and well-established purchasing process."
Added Clark Ricke, CEO at FCC, "We are delighted to partner with Stertil-Koni to streamline the government purchasing process of their award-winning heavy duty vehicle lifting systems, shop equipment and accessories.  Our seasoned team understands how to navigate through government regulations and ensure that all contracts are accurate and compliant.  In sum, this is a genuine win-win-win – for federal agency customers, Stertil-Koni and FCC."
As part of this partnership, Stertil-Koni products can be found on FCC's GSA contract, #GS-03F-113DA.
About Stertil-Koni USA
Stertil-Koni – proud to be a Buy America company – is the market leader in heavy duty vehicle lifts, notably bus lifts and truck lifts, and proudly serves municipalities, state agencies, school bus fleets, major corporations, the U.S. Military and more. Stertil-Koni's breadth of products meets all ranges of lifting needs and includes Mobile Column Lifts, 2-post, 4-post, inground piston lifts, platform lifts, and its axle-engaging, inground, scissor lift configuration, ECOLIFT. The company's innovative, inground telescopic piston DIAMONDLIFT is now available with an optional Continuous Recess system, ideal for low clearance vehicles. Stertil-Koni USA is headquartered in Stevensville, Maryland with production facilities in Europe, The Netherlands, and Streator, IL.