Chip Ganassi Racing and PNC Bank's Women in Motorsport internship aims to encourage diversity at the track.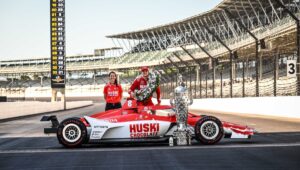 BY ELANA SCHERR 
It's easy to talk about improving diversity in motorsports, harder to make any lasting change. Hang out at the track, any track (although some forms are doing better than others) and it becomes clear that there aren't too many women working in the garages or suiting up for the hot pits. Now I can say from personal experience—almost 20 years covering various forms of racing—that it's noticeably better than it was when I was a baby motorsports reporter, and that's not just me imagining things. Data graphs on the career site Zippia show that the balance of male to female motorsports techs has gone from 96.1 percent male in 2010 to 92.3 percent in 2021. So, it is improving, but at that rate, it's going to take nearly a century to achieve anything close to parity. This isn't entirely due to the evils of sexism: There aren't as many women as men applying for racing jobs, and often young women studying engineering and mechanics don't even realize motorsport work is an option. That's why initiatives like the PNC Bank and Chip Ganassi Racing Women in Motorsport internship are so beneficial, and why it's great news to hear that Ganassi Racing is repeating the program for 2023, with plans to continue it in the future.
The Women in Motorsport (WIM) program offers three paid internships working with the Chip Ganassi Racing Indycar teams. The goal is both to bring attention to the importance of diversity in motorsports hiring and to act as a pipeline for women in STEM studies to graduate into full-time positions. This worked out as planned for Rebecca Hutton, who was one of the 2022 interns, and who will be joining Ganassi Racing as a simulations engineer for 2023. Hutton told me she knew she wanted to work in racing but had no idea there were so many kinds of jobs in the high-tech world of modern motorsports.
In the meantime, everyone on Ganassi's team is excited to welcome the next group of interns for 2023. "The goal is not just to get to some number of women that we feel comfortable with," said Angela Ashmore, engineer on the Marcus Ericsson No. 8 Indy car (pictured at top). "The goal is to end with the best team possible, and the best teams are diverse teams with unique backgrounds that can bring different points of view to problem solving."
The three women coming in for the 2023 season are Hailey Hein, a mechanic from Arizona; Nicole Goodman, an IT specialist from Indiana; and Raegen Moody, an engineering student from Georgia. PNC Bank and Chip Ganassi Racing will accept 2024 season applications in fall of 2023. Interested applicants can learn more at ChipGanassiRacing.com/WIM.